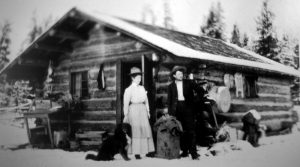 The North Fork area has attracted visitors for well over a century. The Flathead River provided plenty of fresh water, fish, timber, and animal trapping. By the time the Great Northern Railway passed through Glacier National Park in 1893, the North Fork region was already being settled. Not one year in the 1900s, oil was discovered, and the Butte Oil Company constructed Montana's first oil well near Kintla Lake (just a few miles from The Way Less Traveled Bed and Breakfast). The discovery of oil led to a path being cleared for a wagon road into the region, this same path would become the North Fork Road.

Glacier National Park was designated a National Park in 1910, and Congress determined the Western boundary of the park should be the North Fork River. This endangered the homesteads of nearly 50 families. The Park's superintendent threatened to take the private property. It wasn't until 20 years later, during the Great Depression, that the National Park Service offered the homesteaders half price for their property, finally consolidating all the territory east of the North Fork Flathead River into Glacier National Park.

A decade later, the Army Corps of Engineers selected the North Fork to be the site for a new dam. The National Park Service opposed the project, as it would have placed tens of thousands of acres of parklands underwater. After years of back and forth, the proposal was abandoned and the Hungry Horse Dam on the South Fork River was built in the 1950s. In 1975, the North Fork was declared a National Wild and Scenic River, further protecting the area.
The Way Less Traveled
Today, the 150 mile North Fork River runs just as wild and pure as it ever has. The only permanent settlement on the east side of the river is tiny Polebridge, home of the Polebridge Mercantile & Bakery, where you can find the best cinnamon rolls and huckleberry bear claws in the United States. Here, at The Way Less Traveled Bed and Breakfast, we like that everything around the North Fork is untamed and uncivilized, and we think you will too.