Even before COVID-19 created a health need to have distance between ourselves and others, people have come to the North Fork Area to get away from the hustle and bustle. So, for Part 2 of our" Top 10 Things to Do in Glacier National Park!" list, we'll emphasize the places to go and things to do that allow for a lot of social distance.
One of the best kept secrets of the North Fork area is the Numa Ridge Fire Lookout. The hike is pretty tough, with a steep uninterrupted grade, but once you're above the tree-line, the views are truly incredible. Plus, the Numa Fire Lookout is one of the only occupied posts remaining in the National Parks. The lookout will remain there for weeks at a time, with all her supplies being bought up the trail by pack mules. It's truly amazing and worth the effort if you have the time and want to see all that North Glacier has to offer.

Most people rave about Lake McDonald, and it is pretty, but we think the more enjoyable kayak or canoe experience is found at Bowman Lake. Snow melt water is crystal clear, and the crowds don't exist like they do just inside the National Park entrance at Lake McDonald. The Pristine beauty, quiet area, and fantastic views will make the trip all worth it. Add in some of those huckleberry bear claws from the Polebridge Merc, and you have a perfect day.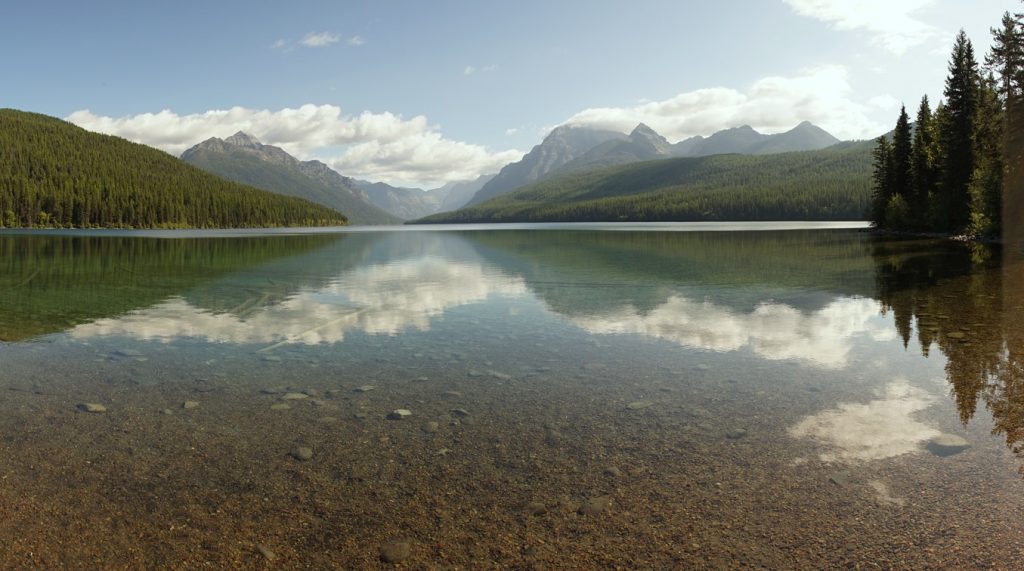 Activity 8: Hike Kinta Lake Trail to Goat Haunt Ferry
Kintla Lake is one of the purest lakes in the United States! Hiking around the crystal clear water with mountains as the backdrop just doesn't get old. So much so that you can make this hike just an out-and-back-day trip, or you can camp your way to Goat Haunt ferry for some incredible views from the various overlooks. The trail is not nearly as populated as those in South Glacier, like Highline to the Loop, or anything around Lake McDonald. This is perfect if you're wanting a more serene adventure away from the crowds. Just be bear aware.
Activity 9: Fly Fishing on the North Fork Flathead River.
Nothing says alone time and social distancing like fly fishing, and the Flathead is known for its excellent fishing opportunities. With beautiful views of Glacier National Park and great West Slope Cutthroat Trout Fishing, what else could you want? Don't forget to get a fishing license from the Montana Fish, Wildlife, and Parks dept.
Activity 10: Relax at The Way Less Traveled Bed and Breakfast
Sure, we're biased, but even if you just spend a day hanging out at our bed and breakfast, you're guaranteed to see wildlife ranging from hummingbirds to bears. Our night skies are some of the darkest you'd find, so it's perfect for long exposure photography or just some good stargazing around a campfire. Grill out on our patio and take in the mountain views just across the North Fork River. Whatever you find enjoyable, we have plenty of space and opportunity for it. Fill out the form below to get our room availability.